Nowadays, access to knowledge requires access to technology. This need is being covered by the 'Digital Care' programme being implemented by the Ministries of Education and Religious Affairs, Finance, Development and Investments, Labour and Social Affairs, and Digital Governance, in partnership with the Information Society. We are participating in this initiative with the largest variety of devices and immediate availability for thousands of products.
The programme provides beneficiaries with 200-Euro vouchers for the purchase of a laptop, desktop, or tablet for pupils of all education tiers, college and university students.
Who it concerns
It concerns children and young people aged 4 to 24. Practically, this means that it covers all education tiers, from kindergarten to university. The main participation criterion is the 'equivalised household disposable income' formula, which cannot exceed 6000 Euros. The 'equivalised household disposable income' is calculated from the annual household income, the number of children per household, and whether there is only one parent in the household.
Participation procedure
Interested parties can participate via the platform that has been created by the Information Society, using their Taxisnet codes, in order to ascertain whether the interested party is a beneficiary. If the participation terms are met, then the subsidy is issued in the form of a unique electronic code.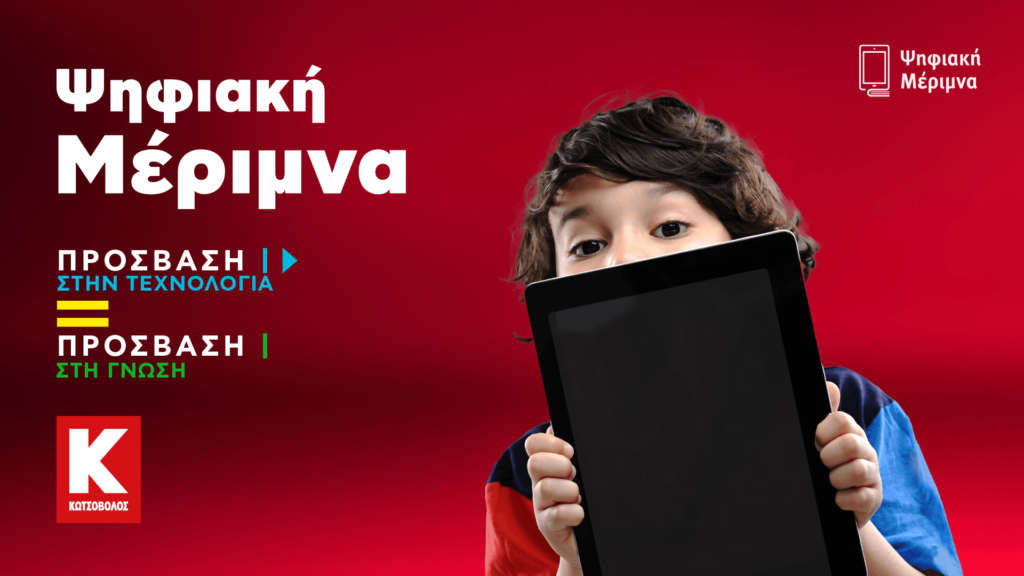 Reserving a Device
Once an interested party has confirmed that they are a beneficiary and they have their voucher from the platform, they can visit a Kotsovolos store, call 210 2899999, or go to www.kotsovolos.gr and order the device of their choosing.
If the beneficiary selects a device of greater value than the Digital Care voucher, then the amount of 200 Euros will be subtracted from the final cost.
Redemption Method
The vouchers can be redeemed from 12 April to 30 July for the purchase of a Laptop, PC, and tablet of the beneficiary's choosing.
Collecting the Device
As soon as the redemption platform is open and the order is complete, beneficiaries may immediately collect their device from a Kotsovolos store or have it delivered within 24 hours.
More information for interested parties regarding the Digital Care programme, as well as laptops, desktops, and tablets are available here: https://www.kotsovolos.gr/psifiaki-merimna
We empower people to live a better life with technology, and that is why we make sure we have the largest variety of and immediate availability to laptops, desktops, and tablets; to make sure that beneficiaries receive their device immediately after redeeming their voucher.
Here is the advertisement: https://youtu.be/FwM0pQXLqv8